From The Baylor Lariat Student Newspaper, April 20, 2007
Tattoos affirm beliefs for Christian students
April 20, 2007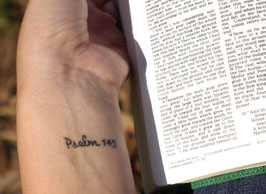 Chris Weeks/Lariat staff
A study titled "Religiousity, Fundamentalism, Deviance, and Body Art" found that nearly half of student tattoos at Baylor are religious.
By CLAIRE ST. AMANT
Staff writer
Barbed wire, dancing ladies and sappy messages to mom may be the stereotypical images of tattoos, but many college students are permanently marking themselves with a different kind of inkblot.
Dr. Jerome Koch, associate professor of sociology at Texas Tech University, will present his findings on "Religiousity, Fundamentalism, Deviance, and Body Art" at 2 p.m. today in 116 Draper Academic Building.
His research includes a sample of Baylor students, as well as some from Purdue University, University of Notre Dame and Texas Tech University. Koch and several other scholars at Texas Tech -- Dr. Alden E. Roberts, Dr. Myrna L. Armstrong and Dr. Donna C. Owen -- comprise the "Body Art Team."
They have published numerous articles on similar topics, including "College Students and Tattoos: The Influence of Image, Identity, Family, and Friends" in 2002 and "Correlations of Religious Belief and Practice on College Students' Tattoo-related Behavior" in 2004.
This report, however, takes a different approach than previous research.
"We really didn't ask a lot of questions about motivation this time," he said.
"We were curious about the relationship between religiousness and behavior."
Koch said he found very different results at Baylor and Notre Dame than at state schools in regard to the relationship between religiousity and sexual activity and marijuana use.
"Baylor kids are quite different than students at state schools," he said.
In agreement with previous studies on body art and religiosity, Koch's research found that "neither religiosity or fundamentalism tell us much about interest in, or acquisition of, tattoos and piercings."
However, Koch said, Baylor was "unique" because almost half student tattoos are religious, compared to one-fourth at other schools.
This makes Baylor "No. 1" for religious tattoos.
The report also found religious tattoos were commonly identified as "memorials, permanent reminders of personal faith and signs of commitment."
Alexandria, La., senior Alex Bolten has two religious tattoos. The first, which he got a week before coming to Baylor, is a barcode on his left wrist. The "code" is actually Nov. 14, 2001, the date Bolten became a Christian.
There is also a Scripture reference to 1 Corinthians 6:20, which reads, "You were bought at a price. Therefore honor God with your body."
Bolten said he chose the barcode because it's on everything that's been purchased.
"I absolutely don't regret it," he said. "It's an expression of my faith."
Bolten's second tattoo, which he got during his sophomore year, is a gothic cross on his right shoulder blade. He described his tattoo as "a reminder of what Jesus did on the cross for me."
Besides serving as a personal reminder, Bolten's unique markings, especially the barcode, afford him many opportunities to share his faith.
"It's a great way to have conversations about Jesus and what I believe," he said. "When you first see it, you wouldn't know it was Christian. People will ask me what it means and that sparks all sorts of conversations."
Jeremy Robinson, a tattoo artist at Dream Connection in Waco, said he has drawn religious tattoos for all age groups.
"People in general like to get a Jesus fish on the foot," he said. "That's a pretty popular one."
Before coming to Waco, Robinson said, he worked in Killeen near Fort Hood.
"Religious tattoos were really common over there," he said.
Robinson attributed the popularity to the fact that many of the soldiers were heading to war.
There were a lot of crosses, Bible verses and "In memory of..." designs, he said.
Denver sophomore Emily Hinkle got her first tattoo on April 9.
The design on her wrist is a Scripture reference to Psalm 145.
"It's a constant reminder of what's most important to me," she said.
Hinkle said she chose that particular Psalm because it was "full of beautiful promises."
While Hinkle said she could see herself getting another tattoo one day, it would have to be religious in nature.
"I couldn't imagine getting a tattoo of something that I might grow out of," she said. "My religion is one of the few things that will be permanent for my entire life."
Hinkle said most of her friends were supportive of her decision, but her family felt otherwise.
"My parents weren't really very excited about it," she said.
With the tattoo located on her wrist, Hinkle added, it's easy to coverup for a job interview or other setting "where having a tattoo might not send out the right message," she said.
Overall, she said, she was happy with her choice.
"This is something that I'm going to have forever," she said.