Here are Mildred and Willard, first on the occasion of their 70th wedding anniversary, and on their wedding day. We remember her
fondly and commend her to God's care through everlasting peace.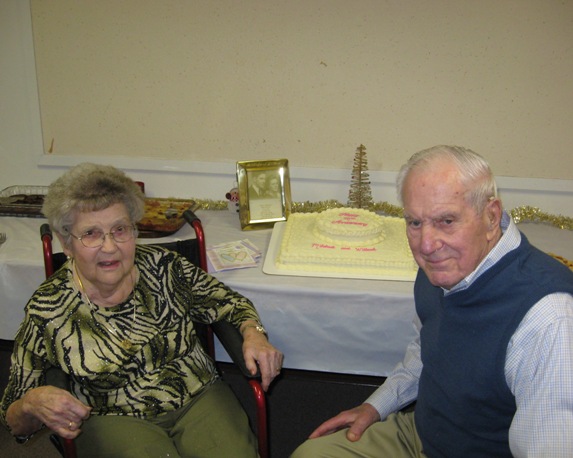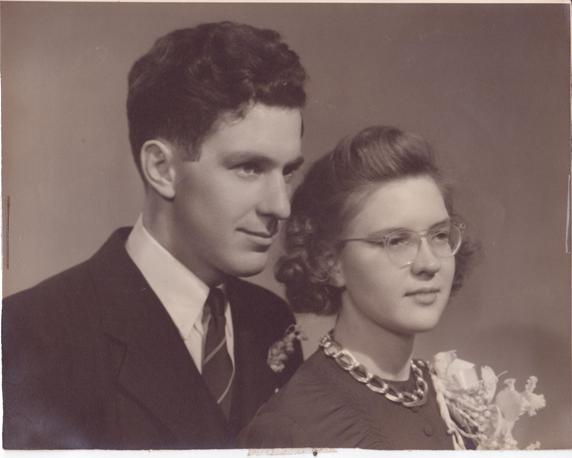 Mildred M. Gundrum Tahoka, TX – After a long illness, Mildred M. Gundrum 94, a longtime resident of Wynantskill, died on Monday June 25, 2012 at her home, the Lynnwood Assisted Living Facility in Tahoka, Texas. Born and raised in Troy, Mildred was the daughter of the late Elmer and Marie Lindeman Angle. Mildred was a 1936 graduate of Troy High and a 1937 graduate of the Troy Business School. Mildred retired in 1984 from the Rensselaer County Social Services Dept. where she worked as a clerk in the Support Collection Unit. She was a longtime Volunteer at Samaritan Hospital where she was honored for the many hours of volunteering she had done. Mildred was a lifelong member of the Zion's United Church of Christ in Taborton where she was a Sunday school Superintendent and teacher for many years. She served on the Church Board, was a founding member of the Secret Pal Club, and a member of the Women's Guild. Mildred was a member of the Speiglelders Senior Group and, along with Willard, an early member of the Tamarac Twirlers Square Dance Club. From 1944 until moving to Texas in 2009, Mildred and her husband of 71 years, Willard J. Gundrum, resided in Wynantskill. Mildred was the mother of the late Robert A. Gundrum. She is survived by her husband Willard, her children Paul W. (Carolyn) Gundrum of Mechanicville and JoAnn (Michael) Travis of Post, TX, her sister Myrtle Banker of Wynantskill, her daughter in law Mary Ida (Paul) Scher of Averill Park, her grandchildren Paulette (Bryant) Gripp, Mark R. (Dayna) Gundrum, Erica M. Gundrum, Carrie E. (Jan) Sabisch, Bryan C. (Catherine Ann) Gundrum, and Matthew P. Scher, and her great grandchildren Dustin Moffre, Joseph and Daniel Gundrum, and Christoph Sabisch. She is also survived by several nieces and nephews. Funeral services will be held Wednesday at 10 am at the Zion's United Church of Christ Taborton Road, Sand Lake, NY, relatives and friends are invited to attend. Relatives and friends may also call at the Perry-Komdat Funeral Chapel 2691 NY 43 at Glass Lake Averill Park on Tuesday 4-7 pm. Interment will be at Elmwood Hill Cemetery, in Troy. If desired donations in memory of Mildred M. Gundrum may be made to the Zion's United Church of Christ, 741 Taborton Road, Sand Lake, NY 12153.