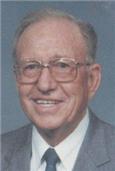 Click Here for the text of his Memorial Servcie held on January 9, 2013
Robert Cox was born in Snyder, Texas on April 28, 1917 to Stella and R. E. Cox. He was the fifth of six children. He moved to Post as an infant and graduated from Post High School in 1935. After high school, Robert attended Texas Tech and worked for Wm Cameron Co. in Lubbock.
In 1940, Robert married Wanda Jo Moore of Ralls, Texas, in a ceremony in Lubbock. He was transferred by his company to Corpus Christi where he and Wanda lived until he entered the service as a part of the Army Air Corps in 1942. He was stationed primarily in Herington, Kansas.
After the war, Robert returned to Post where he owned and operated R. E. Cox Lumber Company for 38 years before retiring in 1982. He remained in Post until he moved to Boerne in 2006, and subsequently, to San Antonio in 2010.
In Post, Robert was an elder at First Christian Church, and a 32nd degree Mason. He served as president of the school board, and he was on the city council and board of the Garza County Museum. In addition, he was a director of the Lumberman's Association of Texas and was interim director of Old Mill Trade Days.
Robert was predeceased by his parents and by all five of his siblings. He is survived by his wife of 72 years, Wanda, his daughter, Lin Alyn Duncan, and his son-in-law, Wendell Duncan of San Antonio. Robert is also survived by his grandsons, Lane Duncan (Lee) of Dallas and Bart Duncan (Andi) of Albuquerque, two great grandchildren, Emma and Isaac Duncan of Dallas, and numerous nieces and nephews.
Burial will be in the Post Terrace Cemetery under the direction of Hudman Funeral Home. While the family appreciates the beauty and sentiment of flowers, those who wish can make a memorial gift to the First Christian Church of Post of to the charity of their choice.